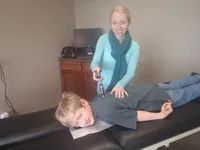 Activator is a method and technique that is very comforting for patients who have never had a chiropractic adjustment. This treatment incorporates an accurate spinal analysis and adjustment that is on target, precise, and painless. There is no twisting or turning, popping or cracking noises and yet it is highly effective. The adjustment is done using the Activator tool.
The low-force program has been safely used for nearly 40 years to benefit people with a wide range of health problems-without drugs or surgery.
The Activator Technique uses the latest advances in orthopedic, neurological, and chiropractic examinations along with a unique system of administering spinal adjustments. Using the Activator analysis and the Activator instrument, your chiropractor can help restore spinal balance, safely and comfortably.