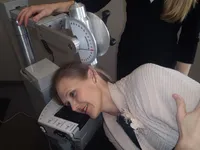 An atlas orthogonal chiropractor treats the patient's conditions through a system of examination and diagnosis that utilizes a detailed scientific and biomechanical protocol. Precise measurements of the angle of the atlas are the basis of treatments.
The digital x-rays taken are invaluable in making the most precise atlas correction which is as unique to the patient as their own fingerprint. Following the diagnosis a specific treatment protocol is developed to align the atlas into the correct neutral/orthogonal position.
One of the most important post adjustment steps are post x-rays, which are taken immediately after the initial atlas correction. There is no guess work in this program. These three dimensional x-rays are taken and analyzed to verify that the best possible correction was rendered. The doctors may then show the patient the comparison between the before and after x-rays. Post x-rays are an illustration of the exact change that has taken place because of the atlas orthogonal correction.